Ten bus lines detour, connect with MAX at SE Fuller Rd Station
With a few days left for last-minute holiday shoppers to flock to the mall, TriMet will detour 10 bus lines out of the mall parking lot at Clackamas Town Center on the last days before Christmas to avoid the congestion.
Detours – lines 28, 29, 30, 31, 71, 72, 79, 152, 155, 156
Buses will not serve the Clackamas Town Center Transit Center (stop ID 13248) and the Clackamas Town Center Mall stops (stop IDs 12921 and 12922) near the movie theater from
1 p.m. until 7 p.m. on the following days:
Friday – Tuesday, December 20, 21, 22, 23, 24
Thursday, December  26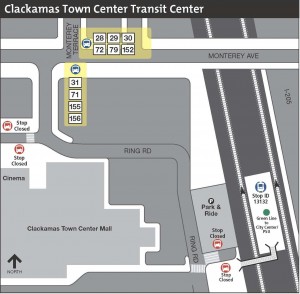 Detoured buses will travel on Monterey Avenue and serve a temporary stop on Monterey near the mall's parking lot entrance by the movie theater. Temporary stops will be posted in both directions.
Routing the buses around the parking lot rather than through it on busy holiday shopping days has helped reduce delays throughout the bus lines. In previous years, buses ended up some two hours behind schedule after getting stuck in the parking lot. While detouring the buses out of the parking lot helps keep them on schedule, it also helps reduce traffic for the shoppers heading into mall.
MAX/Bus riders
To connect bus riders with the MAX Green Line, buses will serve a temporary stop at the SE Fuller Road MAX Station, about a five-minute ride from Clackamas Town Center. Riders who normally transfer between MAX and buses at the Clackamas Transit Center can do so at the Fuller Road Station or walk about a half mile between the Clackamas Town Center Transit Center and the temporary stop on Monterey Avenue.
Signs will be posted at the Clackamas Town Center Transit Center directing waiting riders to the temporary bus stop. Signs will also be up at the Fuller Road Station as well alerting riders to the change. Train operators will also make announcements at the two stops.
Plan ahead
TriMet's online trip planner makes it easy to plan a trip, with information on travel and walk times, transfers and cost. Visit trimet.org, or m.trimet.org for smartphones.
TriMet Tickets mobile app
Need tickets? We have an app for that! Our TriMet Tickets mobile app lets you easily purchase and use tickets and passes instantly on your phone – anywhere, anytime. Just download the free app, register your debit/credit card in our secure system and you're ready to buy, activate and go. Learn more at trimet.org/mobiletickets.