TriMet continues pedestrian safety improvements between NE Portland and Gresham
The first in a series of pedestrian safety improvement projects along TriMet's Eastside MAX Blue Line is underway, kicking off the pedestrian safety element of the Renew the Blue program. The program, begun in 2011, is upgrading the nearly 30-year old Blue Line – one of the first light rail systems in the country – from the aging trackway, and updating to Americans with Disabilities Act (ADA) standards to improved safety and security design elements.
As with any light rail system, heavy use and the passage of time has created this need for upgrades. Also, accessibility as well as safety guidelines are much different today than when the Blue Line went in three decades ago. Today TriMet's Executive Director of Safety, Security and Environmental Services Harry Saporta outlined to the TriMet Board of Directors the initial phase of pedestrian safety improvements.
"These safety improvements were planned to better channel and guide pedestrians and bicyclists into controlled and predictable crossing paths," said Saporta. "They also improve ADA accessibility and increased pedestrian awareness at crossing locations.
"Additionally these changes were designed to help operators better identify a pedestrian's intent at a crossing. By fencing off large open areas where trespassers had easy access onto MAX tracks, both safety and security were enhanced."
Gateway Transit Center safety improvement projects
Gateway Transit Center (TC), TriMet's busiest transit station with 2.5 million boardings in fiscal year 2013, was the first location along the Blue Line to see pedestrian safety improvement projects completed in this Renew the Blue phase.
Multiple bus routes and three MAX lines all meet at this transit center and riders from around the region travel through Gateway TC daily.
The following projects were part of the Gateway TC pedestrian safety improvements begun last year and completed this summer: All improvements bring crossings to current ADA standards and up to TriMet's design criteria and best practices.
MAX Platform Crossing Improvements

Pipe barriers were installed at the Gateway TC MAX platform crossings to force bicyclists and pedestrians to slow and face toward oncoming trains before entering tracks. New signs and pavement markings were also installed and positioned to highlight the crossings.
South Pedestrian Crossing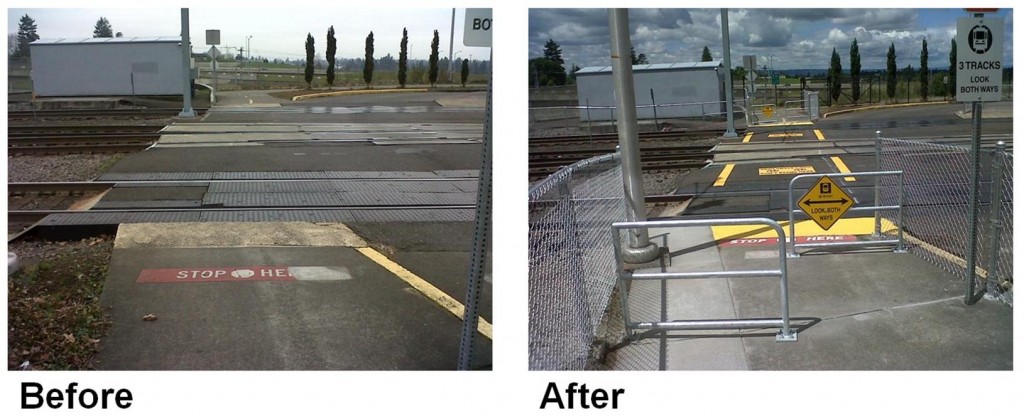 In addition to pipe barriers, fencing and defined crosswalk striping to direct people and encourage safe passage, the south pedestrian crossing was widened and signs were added to promote looking both ways and to warn people of the presence of three sets of tracks. Pavement markings were restored and additional markings added and the tactile pavers, or textured ground panels, were replaced.
North Bus Loop Pedestrian Crossing Improvements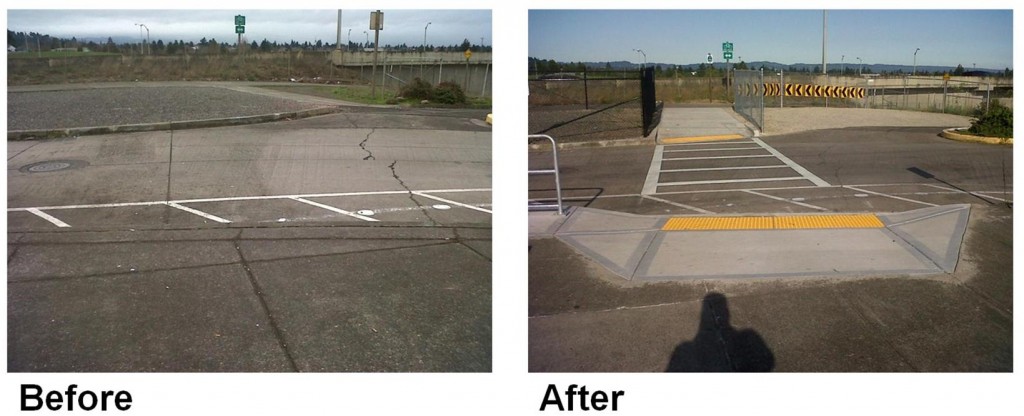 The new north bus loop pedestrian crossing provides a safe, ADA accessible route for pedestrians and bicyclists via ramps with ADA tactile pavers (textured ground panels), a marked roadway crossing, signs to direct users and a new sidewalk connecting the bus loop crossing to I-205 multi-use path. Other improvements included adding pipe barriers and fencing to direct and encourage people to use the crossing.
Right-of-Way fencing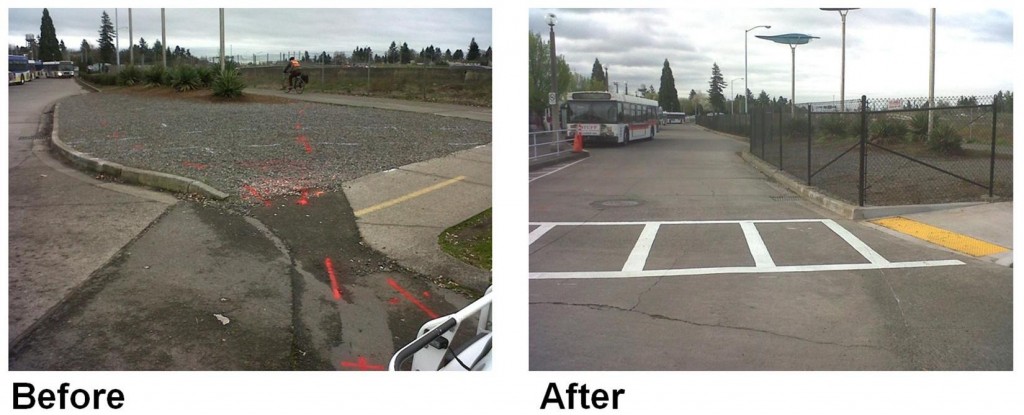 Through our partnership with the Oregon Department of Transportation (ODOT), we installed nearly 600 feet of black vinyl-coated chain link fencing from the newly constructed north pedestrian crossing to the newly improved south pedestrian crossing. Before the fencing, pedestrians and bicyclists would cross over a very busy bus loop, at times stepping out between parked buses into active bus traffic.
2014 pedestrian safety improvement projects
Gresham four crossings
Early next spring, TriMet will kick off the next Renew the Blue pedestrian safety improvement project, what we refer to as the Gresham four crossings. The designs for the crossings in Gresham at Division, Main, Roberts and Hood streets are currently 90 percent complete, with construction expected to begin in spring 2014.
Safety improvements at these locations include:
realigning sidewalks and crossings;
making crossings more perpendicular to the rail;
installing pedestrian warning signals;
directing pedestrian to safe crossings with pipe barriers;
upgrading ADA tactile strips (textured pavement markers); and,
installing pavement markings.
TriMet is working with the City of Gresham and ODOT Rail on these projects because some elements of these improvements extend past TriMet boundaries.
97th and East Burnside
Work will also begin this spring on the pedestrian crossing on the north side of Burnside just west of 97th Avenue. This crossing is not at a TriMet station but has been identified as a location that should be realigned to be more perpendicular to the tracks.
TriMet pursued grants in early 2012 to fund these Renew the Blue pedestrian safety improvements at Gateway TC, Gresham four crossings and 97th and East Burnside.
Renew the Blue program – State of Good Repair
In fiscal year 2014, the Federal Transit Administration will begin providing "State of Good Repair" grants to fund additional pedestrian safety improvements.
"TriMet is committed to reinvesting in our rail network, making upgrades to ensure that our system remains a safe and efficient transit mode far into the future," said General Manager Neil McFarlane.
The State of Good Repair grant funds will provide TriMet $2.46 million per year over the next five fiscal years to complete improvements and upgrades to Eastside Blue Line stations from the Hollywood/NE 42nd Ave Transit Center in Portland to the Cleveland Ave Station in Gresham. This section of the line includes 14.4 miles of light rail alignment, 16 MAX stations and six Park & Ride facilities.