Mobile tickets are convenient and easy, but don't forget to validate before you ride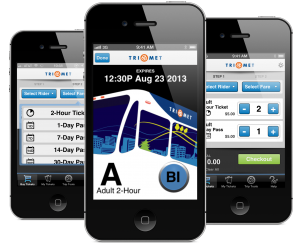 Hold the phone! TriMet Tickets mobile app hits a record of more than half a million dollars in mobile ticket sales. Riders have purchased nearly 110,000 mobile tickets since the free ticket app launched in early September. Downloads of the app have passed more than 32,000.
It's simple, but don't forgot to validate before you go
As more riders learn about and take advantage of TriMet's mobile tickets, operators and fare inspectors are encountering users who didn't validate their tickets.
1-Buy tickets
Go to the "Buy Tickets" tab and select your rider group and the fare you want, and then tap "Checkout. Enter or confirm the payment card you want to use.
2-Use tickets
Go to the "My Tickets" tab and tap the green "Use" button next to the ticket you want to use. (If you are re-launching a ticket already in use, the "Use" button is blue.) When asked to confirm that you want to use the ticket, click "Yes."
It's that simple! We have easy to follow how to videos at trimet.org/mobiletickets/howto, but the best way to verify you've launched your mobile ticket is to make sure there's a bird on it. When the ticket launches on your phone, you will see an image of a bus with an animated city scene in the windows. In that animation you'll see some birds sitting on some wires. So think of it this way, when you see the birds on your ticket, you're good to ride.
Validate or launch your ticket BEFORE you enter a fare-only platform or BEFORE boarding your bus or train. To give your app time to bring the ticket up, launch the ticket when you see your bus or train approaching. You are required to show a fare when riding TriMet so make sure you are ready, and make sure phone's battery won't run out during your ride.
Register your TriMet Tickets account and move unused tickets before making changes
When you first download the app, register your account. This allows you better control of the tickets you purchase, which are automatically stored inside the app on your phone. Before making any changes to your phone that might cause your app to delete or reinstall, move your unused tickets from your phone to your online account at trimet.org/mobiletickets or else they will be lost. Just go into your online account and click the "My Tickets" tab and 'recall' your unused tickets. Get more helpful technical tips at trimet.transitsherpa.com.
Don't have the app? Download it today!
If you haven't already, give the TriMet Tickets app a try! It's free for iPhone or Android users and easy to use. Download it, set up your account, register your credit/debit card into the secure system and get ready to ride paper-free!
Learn more about this innovative app
TriMet partnered with local software developer GlobeSherpa to create the app, the first to be used in the U.S. for riding both buses and trains. Learn more information about the TriMet Tickets app at trimet.org/mobiletickets.