TriMet bus operator and riders help snag Sara Lee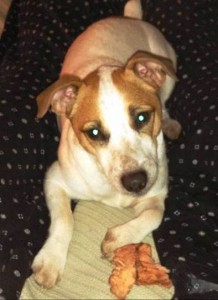 TriMet bus operators maneuver around many obstacles on the road: Heavy traffic, bicyclists, pedestrians – and even pooches. But on Tuesday, September 24 bus operator Leanne Terhune went from driver to dog rescuer.
About 3:20 p.m. Sara Lee, a Jack Russell Terrier, escaped out of her back yard and headed for SE 32nd Avenue in Milwaukie's Ardenwald neighborhood. At the same time Operator Terhune was driving a Line 75 bus down 32nd Avenue. Operator Terhune had to make a quick stop when the dog darted in front of the bus. She then looked over and saw Sara Lee's owner, Coral Cox, waving her arms frantically. Seeing the panic in Cox' face and being a dog lover herself – she has two dogs at home – Operator Terhune wanted to help. She watched as every time Cox got close to Sara Lee, the dog would speed away, likely thinking it was a game.
"I saw the fear in (Cox) face and I thought maybe I could go up and see if she would get on the bus," said Terhune. "Every time I open the car door at home, my dogs jump in wanting to go for a ride."
A few blocks later, Operator Terhune was able to pull the bus up next to Sara Lee and she opened the door. "Here doggy, doggy. Come here. Come on," she said in hopes of coaxing the dog on board. "Surprisingly it worked."
Unfortunately Sara Lee darted out the open door just as quickly as she got on but Operator Terhune again called the dog back and again Sara Lee took the bait. She climbed back in and headed down the aisle.
Although Sara Lee didn't have change for a fare (no pockets) or a smartphone with the convenient new TriMet Tickets mobile ticketing app, since she's only three years old she would have qualified to ride free, but mom soon reached the bus and put an end to Sara Lee's life on the lam.
"When I caught up to the bus, (Terhune) opened the door," explained Cox. "I got on and a passenger had a hold of my dog's collar. What a relief that was!"
We learned about the rescue when Cox posted a thank you on the TriMet Facebook page. "I want to thank the bus driver that helped me rescue my dog… Above & beyond and so very much appreciated."
While Operator Terhune wasn't able to pull the bus out of traffic during the dog rescue since the road is so narrow, other drivers could see what was going on and didn't seem to mind the brief delay. After all, "Nobody doesn't like Sara Lee" or a happy ending.
TriMet Tickets mobile app
Need tickets? We have an app for that! Our new TriMet Tickets mobile app lets you easily purchase and use tickets and passes instantly on your phone – anywhere, anytime. Just download the free app, register your debit/credit card in our secure system and you're ready to go. Learn more at trimet.org/mobiletickets.
Plan ahead
TriMet's online trip planner makes it easy to plan a trip, with information on travel and walk times, transfers and cost. Visit trimet.org, or m.trimet.org for smartphones.