UPDATE: Some 6,200 TriMet tickets downloaded since app went live
Note: Release contains updated information about validating mobile tickets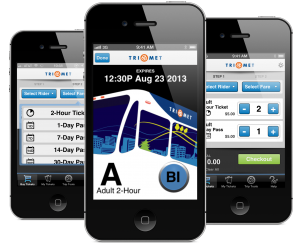 Enthusiastic riders are finding the TriMet Tickets mobile app is making it easier to ride our buses and trains. As of 9 p.m. on Wednesday, Sept. 4, 6,209 tickets have been downloaded and more than $30,440 in ticket sales has come in through the mobile ticketing app since it went live.
TriMet officially launched the mobile app at a public event this morning, but some people stumbled onto it in app stores yesterday. "The TriMet Tickets app is part of our five year plan focused on making the customer experience better and today we take a tremendous leap forward for our riders," said TriMet General Manager Neil McFarlane.  "We are excited to put it into the hands – or should we say phones – of our riders, making it simple to buy and use fares anywhere, anytime."
TriMet riders are the first in the U.S. to use a mobile ticketing app to ride both buses and trains. TriMet paid no upfront costs to local software startup GlobeSherpa for the development of the TriMet Tickets app. The app will save the agency money by reducing the operating costs associated with printed and cash fares.
Here's some of the positive reaction we're seeing on Twitter:
@fullbright
PDX people: now you can buy TriMet tickets usinging your smartphone! Buy ahead of time, activate on use. Rad. trimet.org/mobiletickets/
@littlebrightpdx
I CAN USE MY SMARTY PHONE TO PAY FOR MY @trimet FARE! No more using laundry quarters to pay for fare!! HUZZAH!!
@evanlandman
So this app is totally changing the TriMet game for me. Amazing how easy transit can be when you dont have to worry about having small bills
@MsLierre
Three members of my fam use TriMet almost exclusively for transportation. One has already used the ticketing app and "loves it!!!!!!"
@caroleiskuehl
Used the brand new @trimet ticket app this morning. Quick set up & it worked like a charm! Good work, Trimet Team! #PDX #trimet
@Madblunder
Oh @trimet app where have you been all my life! #trimet #citygoingdigi #pdx
Using the TriMet Tickets app
To get the free app, go to your Apple or Android app store and search for TriMet Tickets. Download the free app and register your debit or credit card into the secure system. Go to the "Buy Tickets" tab and choose rider type, fare and quantity, then tap "Checkout".  You can buy tickets ahead of time or use immediately after purchase.
To use a ticket, open up the app and go to the "My Tickets" tab. Validate your ticket by tapping "Use" before entering a MAX platform where fares are required, otherwise wait until you see your bus or train approaching and then tap "Use". Show your phone screen to the bus operator when boarding or when requested by TriMet personnel or Transit Police officers.
The TriMet Tickets mobile fares are accepted on TriMet buses, MAX trains, WES Commuter Rail and the Portland Streetcar.
For more information on how to use and verify mobile tickets go to trimet.org/mobiletickets.