Nearly 20,000 app downloads and 34,000 mobile tickets purchased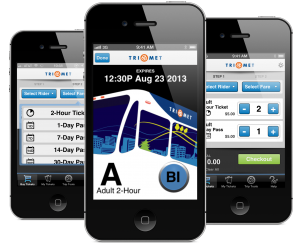 The TriMet Tickets mobile ticketing app continues to gain in popularity, allowing you to conveniently and easily buy your tickets anywhere, anytime. Nearly 20,000 people have downloaded the app and as of 3:30 p.m. today, nearly 34,000 mobile tickets have been purchased adding up to more than $150,000 in ticket sales.
While the response has been overwhelmingly positive, with so much use we are getting some new questions about the functionality of the app. Here are some simple, important tips to make sure your mobile tickets and passes don't disappear.
How to avoid losing your tickets and passes
Uninstalling and reinstalling the TriMet Tickets app
After downloading the TriMet Tickets app and buying tickets or passes, some users are deleting the app. The tickets you purchase are stored in the app on your phone. Deleting the app essentially throws out the tickets. The same is true if you uninstall and reinstall; those tickets will be lost.
Switching, resetting or wiping your phone/Installing a pre-release or beta operating system
If you are getting a new iPhone 5S or upgrading to any new phone, or you want to reset or wipe your phone, you need to move your unused tickets and passes from your phone ahead of time or they will be lost. The same is true if you are installing a pre-release or beta operating system, such Apple's developer iOS version. This will not be a problem with regular operating system updates, only with the pre-releases.
Go to trimet.transitsherpa.com to register your account. In the My Tickets tab, click your unused tickets and then click "Recall Unused Tickets". This virtually pulls the tickets from your original phone/app and stores them in your online account. Once you power up your new or clean phone, install the app and log into your account, those unused tickets will be downloaded into your phone automatically.
If you get a new phone, you will need to plan ahead. It may take up to 72 hours to retrieve your tickets."
Plan ahead so you don't lose your pass or tickets
Whether the app is deleted or you switch to a new phone, passes and tickets that were in use but not expired will no longer be available. So wait until your ticket expires before making any changes. We are investigating possible solutions.
Also, your email address is your primary account number and downloaded tickets are associated with that email address. If you log into your app with a different email address, those tickets will not be available.
Tickets downloaded to your phone are non-transferrable, and cannot be accessed by or shared with another phone.
Buy TriMet tickets anytime, anywhere!
The TriMet Tickets app allows you to purchase TriMet fares on your Apple or Android smartphone anywhere, at any time. Once you've registered a credit or debit card into the secure system, just choose rider type and fare, and then tap the checkout button. The ticket pops up in your "My Tickets" tab in just seconds.
Validate your tickets before entering fare-only platforms, vehicles
If you're entering a MAX platform where fares are required, make sure you activate your ticket (by tapping the "Use" button) before entering the platform. Otherwise, you can activate your ticket when you see your bus or train approaching. Your ticket must be activated before boarding a vehicle.
Don't have the app yet?
If you have an Apple or Android smartphone, go to the app store and search for TriMet Tickets. Download the free app, create your account and register your debit or credit card. You're now ready to start buying and riding paper free! There is a $5 minimum due to card transaction fees.
Learn more about this innovative app
TriMet partnered with local software developer GlobeSherpa to create the app, the first to be used in the U.S. for riding both buses and trains. Learn more information about the TriMet Tickets app and view a how-to video at trimet.org/mobiletickets.