Public celebration from 10 a.m. – 11 a.m. at PSU's Urban Center Plaza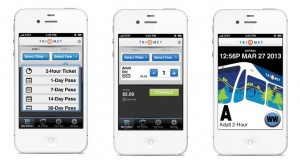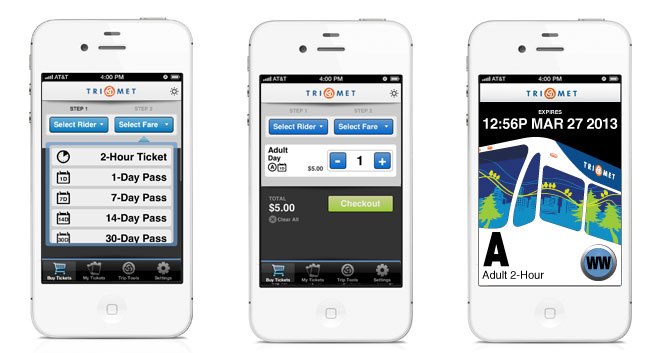 The TriMet Tickets mobile app becomes available to the public this week. To celebrate, TriMet is inviting riders to a launch party on Wednesday, Sept. 4 from 10 a.m. through 11 a.m. at Portland State University's Urban Center Plaza located on SW Montgomery between 5th and 6th avenues in downtown Portland. TriMet staff, the app developers from GlobeSherpa and beta testers will be on hand to help customers download the app and get riding. We'll have refreshments and music by Martin Zarzar of Pink Martini fame.
TriMet riders will be the first in the nation to use a mobile ticketing app to ride both buses and trains. "The TriMet Tickets app is just one of the steps we're taking to improve the experience for our riders wherever and whenever possible," said TriMet General Manager Neil McFarlane. "We're excited to put this mobile ticket in the palm of their hands and making riding easier. We hope everyone will join us as we kickoff this new era at TriMet."
With the TriMet Tickets app you'll be able to easily buy tickets on your Android or iPhone – anywhere at any time. With a few taps on the screen, your ticket will be right there in the palm of your hand. Use it to ride buses, MAX trains, WES Commuter Rail and the Portland Streetcar.
Free TriMet Tickets app
Features include:
Easy registration and user interfaces for quick and convenient purchasing
A secure payment system for credit/debit card information
Platform for single rider or multiple riders purchases
Adult, youth and honored citizen tickets and pass options
Animated tickets with built in security features
TriMet trip planning tools
Safety light with TriMet logo
Download the free app from an app store, load your information and go
Starting September 4, download the free TriMet Tickets app from an Android or iPhone app store. Register your account and load your credit or debit card information into the secure system and then you're ready to buy tickets. It's that easy! For more information and a how to video, visit trimet.org/mobiletickets.
Whether you are an adult, youth or an honored citizen, you will be able to buy 2-Hour tickets, 1-Day passes, 7-Day passes, 14-Day passes and 30-Day passes for immediate or future use. There's a minimum $5 purchase required but the tickets you buy, such as two Adult 2-Hour tickets at $2.50 a piece, can be activated individually.
Path toward a state-of-the-art electronic fare system
The TriMet Tickets mobile ticketing app takes us a big step toward a state-of-the-art electronic fare system that we will begin implementing in 2015. Like the mobile ticketing app, the eFare technology will be simple to understand, easy to use and convenient. It will also allow customers to enjoy features such as stored value, convenient purchasing and real-time reloading, online account management and payment protection.
Learn more about eFares.