Lunch-hour talks on east bank of river lead up to public bridge name submission phase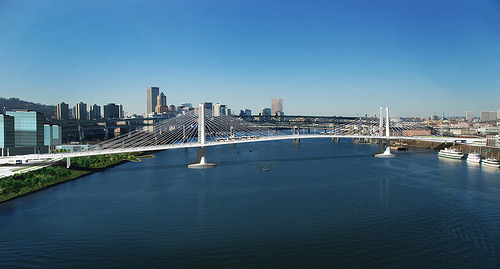 In anticipation of the public name submission phase for the new Portland-Milwaukie Light Rail Bridge, TriMet will offer four "Bridge Talks." The lunch-hour events will allow the public to hear firsthand about the bridge design and construction while viewing construction from the east bank of the Willamette River. TriMet Community Affairs Representative DeeAnn Sandberg will lead the discussions and answer questions; no reservations are necessary.
What: Portland-Milwaukie Light Rail "Bridge Talks" – hear an insider's guide to Portland's newest icon
Where: Caruthers Plaza, 211 SE Caruthers St., Portland (just west of the Hampton Opera Center)
When: Noon to 1 p.m., each of these Wednesdays
September 25
October 2
October 9
October 16
The Bridge Naming Process
Led by a committee of regional leaders and community members, the bridge naming process runs from September 2013 until spring 2014. The initial public name submission phase is October 17-December 1, 2013, with suggested bridge names being submitted via trimet.org. For more information, visit trimet.org/namethebridge.
About the Portland-Milwaukie Light Rail Bridge
The bridge will be the first cable-stayed bridge for the region, extending 1,720 feet (.326 miles) over the Willamette River. The bridge alignment is SW Porter Street on the west side and SE Sherman Street on the east side. This unique bridge will carry transit, cyclists and pedestrians but no private vehicles. Emergency vehicles will be able to access the bridge if necessary.
About the Portland-Milwaukie Light Rail Transit Project
The 7.3-mile project is the region's sixth MAX construction project to be built and extends from the terminus of the MAX Green and Yellow lines at Portland State University in Downtown Portland to South Waterfront, SE Portland, Milwaukie and North Clackamas County.
About the project:
7.3 miles
10 stations
The first of its kind multi-modal bridge over the Willamette River that will carry light rail, buses, bikes, pedestrians and a future Portland Streetcar extension, but no private vehicles.
Opens Saturday, Sept. 12, 2015
Expands the MAX system to 60 miles and 97 stations
Project partners
The Federal Transit Administration, State of Oregon, Clackamas County, Metro, City of Milwaukie, Multnomah County, City of Oregon City, Oregon Department of Transportation, City of Portland, Portland Development Commission and TriMet.