Bus and MAX riders may experience some delays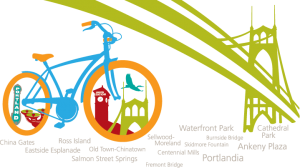 Some TriMet service will be impacted on Sunday morning, August 11, by the Providence Bridge Pedal. The annual biking/walking event will lead to some bus detours and service delays as it winds through streets and in and around downtown Portland.
Bus service impacts
Beginning at 5 a.m. through noon, or when the event concludes, 15 bus lines will be detoured. Affected stops will be posted with service information directing riders to nearby and temporary stops.
4-Division/Fessenden
8-Jackson Park/NE 15th Ave
9-Powell Blvd
12-Barbur/Sandy Blvd
15-Belmont/NW 23rd Ave
17-Holgate/Broadway
19-Woodstock/Glisan
20-Burnside/Stark
35-Macadam/Greeley
44-Capitol Highway/Mocks Crest
54-Beaverton-Hillsdale Hwy
56-Scholls Ferry Rd
70-12th Ave/NE 33rd Ave
72-Killingsworth/82nd Ave
77-Broadway/Halsey
MAX service impacts
The Bridge Pedal routes cross the MAX tracks in a handful of locations. Riders should expect possible 10 to 15 minute delays as trains are held at times.
Plan ahead
TriMet's online trip planner makes it easy to plan a trip, with information on travel and walk times, transfers and cost. Visit trimet.org, or m.trimet.org for smartphones.