Light rail bridge construction in Milwaukie wraps early
TriMet and Milwaukie city officials celebrated Monday morning after the reopening of Southeast McLoughlin Boulevard/Highway 99E 11 hours ahead of schedule. Crews worked around the clock placing six large steel girders over McLoughlin Blvd as part of the Portland-Milwaukie Light Rail Transit Project.
The girders are part of the Kellogg Bridge that carry light rail from downtown Milwaukie over Kellogg Lake, McLoughlin/Hwy 99E and residential streets before returning to grade south of River Road.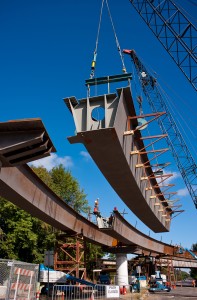 SE McLoughlin/99E was closed for 44 hours as crews lifted six large steel girders in place as part of the Kellogg Bridge project that will carry Orange Line trains into downtown Milwaukie over Kellogg Lake.
View the timelapse and Kellogg Bidge overview videos below. For more information on this segment of the Portland-Milwaukie Light Rail Transit (PMLR) project please visit the PMLR website at trimet.org/pm.
Timelapse of the Kellogg Bridge Girder placements, August 2013
The Kellogg Bridge overview
About the Portland-Milwaukie Light Rail Transit Project
The 7.3-mile project is the region's sixth MAX construction project to be built and extends from the terminus of the MAX Green and Yellow lines at Portland State University in Downtown Portland to South Waterfront, SE Portland, Milwaukie and North Clackamas County. About the project:
 7.3 miles
10 stations
The first of its kind multi-modal bridge over the Willamette River that will carry light rail, buses, bikes, pedestrians and a future Portland Streetcar extension, but no private vehicles.
Opens Saturday, Sept. 12, 2015
Expands the MAX system to 60 miles and 97 stations
Project partners
The Federal Transit Administration, State of Oregon, Clackamas County, Metro, City of Milwaukie, Multnomah County, City of Oregon City, Oregon Department of Transportation, City of Portland, Portland Development Commission and TriMet.