Missing your rejected bills? What you can do to get your cash back
TriMet and the Transit Police Division (TPD) want to enlist the help of customers to stop scammers who are using cigarette butts to steal rejected bills. Last month Transit Police officers arrested 20-year old Devin Anthony McDonald after they spotted him jamming a cigarette butt into a ticket machine in an effort to steal cash from customers making purchases at the machine. But McDonald is not the only one behind the scam.

"We've seen incidents of the jams increasing, and not just in downtown Portland where the initial incidents had been centered," said TriMet Executive Director of Safety, Security and Environmental Services Harry Saporta.
It's difficult to know how often intentional jamming of machines have occurred. We do have real-time monitoring of our ticket vending machines and are alerted when the bill pay system stops functioning, but before a technician arrives at a machine the jam may have already been removed by the scam artist or by TriMet personnel. However, in June, 28 cases were documented and we received 97 customer complaints that money was lost at a machine.
"It's an annoyance to our riders and it's a serious crime," adds Saporta.
Large fine, possible jail time
Transit Police believe several different people are perpetrating the scam. Today, TriMet is releasing video and still photos from our security cameras of another person wanted by TPD for the same crime. Jamming a cigarette butt or any other item into a ticket machine is considered an act of vandalism that interferes with public transportation, and that's a Class A misdemeanor punishable by a fine of up to $6,250 and up to a year in prison.
Reward offered
Help TriMet and the Transit Police Division stop the vandalism and you'll be the one walking away with cash. TriMet offers a $1,000 reward for information that leads to the arrest and conviction of anyone who vandalizes TriMet property, including ticket machines.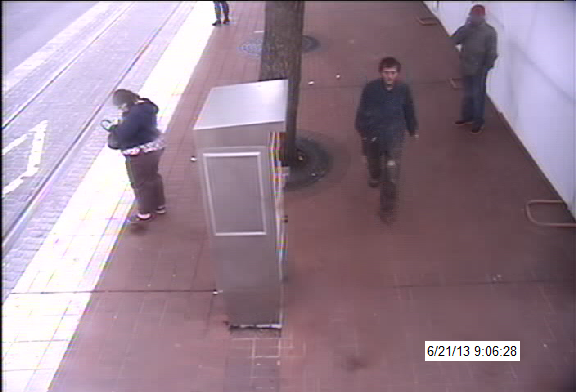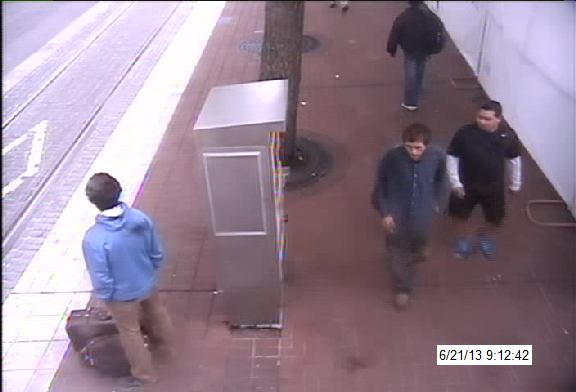 Keep an eye out for someone loitering around a TriMet ticket machine. If you see someone sticking an item into the slot where bills are returned, call 9-1-1. If you have information about someone committing the crime, call the non-emergency at 503-823-3333.
"If you see something, say something," said Transit Police Commander Kevin Modica. "This is a street scam and the way to stop it is to expose what the scammers are doing so riders know what to look out for and how to protect themselves. With everyone's help, we can stop these criminals."
Missing your cash?
If you make a cash purchase at a TriMet ticket machine and it takes your bill without issuing a ticket or returning the bill, reach your fingers inside the slot and up. If you feel a cigarette butt or other item blocking the slot, simply remove it and your bill should drop down. Please let us know about the jamming by calling 503-238-RIDE (7433) and reporting what happened.
Stopping the scammers and the scam
Police officers and TriMet are conducting physical and video surveillance. TriMet has security cameras at MAX and WES platforms throughout the system. TPD officers are also conducting undercover patrols, hoping to nab more suspects in the act.
TriMet is also taking steps to prevent the scam. We're investigating both software and hardware adjustments that could help deter the vandals. This might include preventing money from being dispensed after a jam occurs and putting covers over the bill acceptor slot that would prohibit a person from sticking somthing up into the slot.