Agency reaches new record for hiring firms owned by people of color and women
When it opens in 2015, the Portland-Milwaukie Light Rail Transit Project will improve transit and connections throughout the region. But the benefits of the construction project are already being felt in the community.
TriMet General Manager Neil McFarlane announced that for the first time more than $110 million in contracts have been awarded to firms owned by people of color and women. These 108 Disadvantaged Business Enterprise (DBE) firms have reached a new record of contracting for any regional project.
"This is an amazing milestone that was achieved because of our commitment to inclusion, diversity and creating opportunities for these emerging small businesses," said McFarlane.
TriMet's DBE program promotes a level playing field, removes barriers and increases contracting opportunities for people of color and women in both the professional and construction fields.
Jobs when most needed
The light rail project is also bringing family-wage jobs to more of the region's residents at a time when they're needed most. Nearly 24 percent of the construction jobs are held by people of color and about 16 percent by apprentices. With this influx of new labor, the DBE program is not only providing jobs now, but creating the workforce of the future.
TriMet created its innovative award-winning DBE program back in 2000 when it was getting ready to build the Interstate MAX Yellow Line project. The community had concerns that past projects didn't provide enough local opportunities. TriMet delivered $36 million in contracts for that project; $62 million for the MAX Green Line, and now topping $110 million for the Portland-Milwaukie project. These successes have made TriMet's DBE program a model for the nation.
"Working with women, minority and emerging small businesses helps us achieve our transit equity goals," said TriMet Director of Diversity and Transit Equity Johnell Bell. "Ensuring that our projects represent the diversity of our community leads to economic empowerment and growth for DBE firms."
DBE Champion – Dr. T. Allen Bethel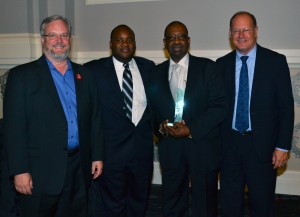 McFarlane also announced that Dr. T. Allen Bethel is the recipient of the agency's first DBE Champion award meant to inspire other leaders to support and expand DBE opportunities. Dr. Bethel, who also serves on the agency's board of directors, was selected because "of his unwavering commitment to DBE advancement."
(Photo: From left to right: Dan Blocher, TriMet executive director of capital projects; Johnell Bell, TriMet director of diversity and transit equity; Dr. T. Allen Bethel, TriMet's DBE Champion award recipient; Neil McFarlane, TriMet general manager)
About the project
The $1.49 billion light rail project is the region's sixth MAX construction project and will expand the system to 60 miles when it opens in 2015. It's a partnership between the Federal Transit Administration and the State of Oregon, Clackamas County, Metro, the cities of Portland, Oregon City and Milwaukie, the Portland Development Commission and TriMet. TriMet's share is less than 5 percent of the costs.