TriMet and the Transit Police Division (TPD) are cautiously optimistic this spring won't see a repeated spike in smartphone robberies thanks to the hard work of two TPD officers, credited with thwarting the group behind the majority of the smartphone robberies last year.
| Month | Incidents |
| --- | --- |
| February 2013 | 7 |
| January 2013 | 9 |
| December 2012 | 4 |
| November 2012 | 5 |
| October 2012 | 9 |
| September 2012 | 4 |
| August 2012 | 3 |
| July 2012 | 2 |
| June 2012 | 1 |
| May 2012 | 19 |
| April 2012 | 7 |
| March 2012 | 2 |
After a sharp increase in smartphone snatches last April-May, TPD increased patrols, conducted undercover missions, scoured TriMet security cameras and video and dedicated two officers to investigate the robberies.
This type of robbery, also referred to as "Apple Picking" due to the popularity of iPhones, is a crime of opportunity centered particularly around public transportation where groups of people gather and are often distracted with their phones. Transit agencies across the country have seen smartphone robberies jump.
"When in public places some people become totally focused on their electronics and aren't aware of their surroundings," said Transit Police Division Commander Mike Crebs. "Ask yourself would you hold $400 in your hand for everyone to see? Probably not, so please keep your phone close by and pay attention to what is happening around you."
Transit police officers Kristi Butcher and Brandon Gentry spent more than 190 hours reviewing TriMet security video and saw suspects conducting surveillance on their victims. In many cases, the suspects would pass by the victim several times, getting closer and closer, waiting for the opportunity to strike. They often grabbed the phone out of a victim's hand and ran before the owner could even react.
"One video from a bus showed a person sitting in a seat and several people standing behind her making a plan to steal her phone," said Commander Crebs. "When the bus came to a stop one person grabbed the phone and ran off the bus; the victim was completely surprised."
Officers Butcher and Gentry were recently honored with Achievement Awards from the Portland Police Bureau for their work that was pivotal in solving the majority of the robberies. Butcher, Gentry and their fellow Transit Police officers made 53 arrests in 49 cases during a span of nine months. Many of the suspects were involved in multiple robberies. Those arrested ranged in age from 15 to 18, and many knew each other.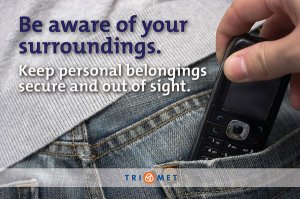 During the increase in robberies, TriMet put out reminders to riders to keep an eye on their electronic devices. "Protect your stuff" posters went up in buses and trains, and reminders were sent out via social media and email.
Transit Police and TriMet's Safety and Security Executive, Harry Saporta, have a message for anyone who might think about reprising the smartphone snatches this spring or committing any crime on TriMet: We're watching you.
"We have cameras on our buses, trains and platforms," said Saporta. "You do something wrong and we have you on video. Our transit police officers use those images to track you down and TriMet will make sure you are prosecuted to the full extent of the law."
The Transit Police Division provides these smartphone security tips:
Keep your phone close to you.  If it is not in use, keep it out of sight.
When listening to music, use headphones and keep the device tucked away in your pocket or a bag that's in your possession.
Be aware of your surroundings and look for people paying close attention to your electronics devices.
Be particularly vigilant when a bus or train is coming to a stop and the doors are about to open. Thieves often times plan their "snatch" just as the doors are about to close.
Sit or stand in an area that is visible to others.
"Remember, a phone or iPod is replaceable, so don't risk your own safety," said Crebs. "If your device is grabbed do not go after the thief. Alert an operator and/or call 9-1-1 immediately."
There are a number of "Find my phone" mobile apps that could help if a smartphone is snatched. If such an app is installed on the phone, it could help police not only find it, but track down the culprit as well.
Thieves turn stolen phones and devices into cash by selling them at schools, through friends, even on sites such as Craigslist. The PROTECTS Initiative, announced last spring by the Federal Communications Commission, will make stolen phones useless on the black market. As part of the initiative, a national database is being created for stolen phones and devices. Carriers would not be able to provide service to any device listed in the database.  It is scheduled to launch in late 2013.